The awesome power of the one-page strategic plan
BUSINESS
Imagine a strategic plan that people actually read? And – GASP! – took action on? I know, right? Radical. According to various clever people, the answer lies in condensing your annual strategy into a single page. In a nutshell, it's the most effective way to determine what's important… then make it happen. So if you're struggling to convince the C-suite that two sides of a letter-size sheet is the future, here are three neon-lit tips to flash their way:
1)    Your people are DESPERATE for simplicity
When your inbox is overflowing, you're stuck in meetings and the grind is real, who wants a 13-page plan to bog them down?  A one-page plan is a powerful way to rally the troops. And it's your secret weapon in the battle for attention.
2)    You'll crystallise your values (like never before)
The one-page plan forces you to distil everything down to the essential nuggets. Not a list of 47 actions. Not a bunch of intangible nonsense.
Just the values and Big Hairy Audacious Goals that really count. So you can give your teams a crystal-clear purpose to inspire and energise them for the year ahead.
3)    You'll give your business a greater chance of success
Check this: Capital Recovery Group increased sales on one service by 2000% and Virtual Technology Corporation exceeded its goals by $1.4 million. How? Yep… one single-minded focus and theme for the year.
So you see, when everyone's on the same page – #SorryNotSorry – good things really can happen. Is this your year to try it?
PRINT 101
What is Offset printing?
Offset printing is a commonly used printing technique where an inked image is transferred (or offsetted) from a plate to a rubber blanket, then to paper. The offset process is a lithographic process. Offset lithography is based on the fact that oil (ink) and water do not mix.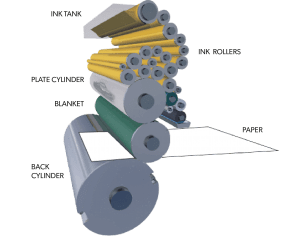 INSPIRATION : TEAM'S LATEST PICK
Podcast: The Creative Power of Misfits
Adam Grant show us how to harness the power of frustrated people to shake up the status quo – just like Pixar did.